How To Make a GIF the BuzzFeed Way
So I finally learned how to make a GIF! If you want to try, here are the steps I learned from BuzzFeed social media editor Mike Hayes. Here's me celebrating my first GIF: I even taught my husband how to make one! And I made a GIF that lived on the top of nydailynews.com, our first-ever on the site: It was a pretty exciting day, y'all.
The Sweetest Cab Driver in New York City
When a friend told me he'd landed in a Candy Cab and that it might make a great story, I was skeptical - who wants to eat candy that's lying around in a taxi? But then I got on the phone with the driver, Mansoor Khalid, and his story just about broke my heart. His 2-year-old son died in April after a long battle with heart disease (he had two heart transplants and lost a kidney...
A Tale of Two "Meena & Adam"s (Or, How Our...
A few weeks ago, right before my husband (Adam) and I (Meena) celebrated our first wedding anniversary on September 18th, I called up another couple to see how their first year of marriage was going. The phone rang across the Canadian border, and The Other Adam and Meena picked up - they were getting ready to celebrate too since they also tied the knot last year, on September 17th. This was the...
How to do stuff: GANGNAM STYLE
Korean pop superstar PSY taught me how to roll, GANGNAM STYLE.
On 9/11, a love letter to New York -- and to...
Last year on this day, I was a week away from getting married. I was full of hope and optimism and excitement, but I was also filled with sadness and reflection on the tenth anniversary of what some have called "the day that never stopped." Here's the post I wrote that day, on falling in love with New York - and, with love. Originally posted on the New York Daily News, here. ...
Color Running
I'm not a good runner. I just want to get that out there, since this is a run recap and all. I'm not very fast. I'll probably never do a marathon. Right now, I'm lucky if I can finish a 10K. In fact, during a game of "True Colors" a few years ago, my friends revealed they think I'm the biggest couch potato of the group. But lately I've been trying...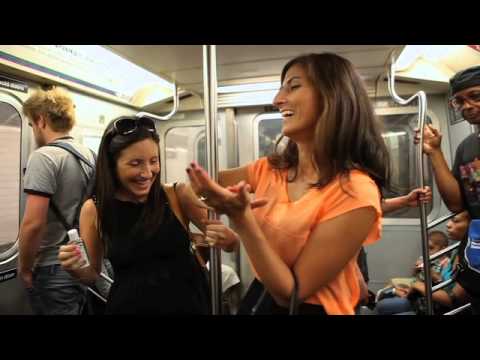 Watch
There are a lot of skills I wish I had, but one thing that's always seemed totally out of my reach is how to blow dry my hair like an adult, instead of looking like I stuck my finger in a socket. If you're like me you're usually better off paying a professional than trying to do your own hair - so I got a pro to spill his secrets. The result: Check out how to get a perfect salon...
How To Eat a Hot Dog (like Kobayashi)
I know what you're thinking - you already know how to eat a hot dog. How hard could it be? But this isn't just any old way to eat a hot dog - it's the KOBAYASHI way. I sat down with the competitive eating legend to learn his method and try it out for myself. (Spoiler alert: It's pretty gross.)
How to fake a tan (without looking like the Tan...
Have you been stuck inside under the fluorescent lights for too long? Even if you haven't been able to get to the beach yet, Chelsa Skees has all the tricks for how to fake a tan (without turning into the Tan Mom.) We did this video for the Daily News…check that link out here.
Teach me how to karaoke
I am fully terrified of karaoke and usually try to avoid it, but word on the street is it's actually an amazing time if you can get over yourself. Tony Bacigalupo, who won himself a 2009 karaoke title at SXSW, walked us through how to kick ass at karaoke, even if you can't sing. You're going to want to turn up the volume on this one.
How To Shop at Sephora (without panicking)
I suck at buying makeup. If left to my own devices I would buy everything at Rite-Aid and none of it would match my face. I'm still coasting off the makeup my friend Lauren bought me for my wedding, when she held my hand and steered me through Sephora, plucking all kinds of products off the shelf that I'd never even heard of. In my day-to-day life I do my makeup on the subway, and I...
The Loneliness
In my line of work, bad news is good news. When terrible things happen to people – a naked man chews another man's face off or a woman is ripped in half by an elevator on her way to work – a different energy starts to course through the air: this is going to be a good day, we say to ourselves. We feel relief, excitement, we breathe a little easier. Other people's tragedies are our good...
Judging By Its Cover
So Time Magazine really went there. Posted online today, this is the magazine cover that hits stands on Friday, and it's the kind of thing that people CAN'T STOP LOOKING AT. The Q&A with this 26-year-old mom (her child is 3) reveals she was breast-fed until she was 6-years-old herself: They are people who tell me they're going to call social services on me or that it's child...
3 tags
How To Sharpen Pencils
In which David Rees teaches me a thing or two about the art of artisanal pencil sharpening. (photo by Meredith Heuer) David came to the Daily News to give me a tutorial on pencil sharpening in person:
2 tags
Not so therapeutic
(Photo from the New York Times.) Well, file this under Things That Make Me Sad. The Post has a story today that the married couple behind the design and decor blog Apartment Therapy are getting a divorce after 10 years and a baby (the family was profiled in the Times twice, the photo above is from 2006 when they welcomed their daughter Ursula into their 265-square-foot apartment). Of course I...
2 tags
9 Reasons to love Katie Couric
So today's life crush is Katie Couric, who came back to the morning news anchor chair for the first time since leaving the Today Show, guest hosting Good Morning America for Robin Roberts (who is on vacation and undoubtedly hoping she still has a job when she returns). And everyone was so happy about it! (I mean, except everyone who works at NBC.) Look, look how happy they are! Granted...